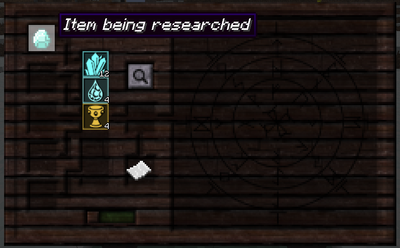 The reasearch table is used to create theories so the player can create things in Thaumcraft
To use the research table the player must put paper in the bottom right slot, and the items (s)he wants to research in the slots on the left. The player then clicks the search button to research the items. Once the player researches items with the correct aspects enough times, (s)he is rewarded with the competed theory. There is a bar that switches the mode from thorough; which is more likely to break the item, but also gives a higher chance of giving the player a theory. The second mode is cursory which is less likely to break items but also makes it a lot harder to obtain a theory.
In order to obtain the research table the player must place two tables next to each other and right click on them with the Scribing Tools.
Ad blocker interference detected!
Wikia is a free-to-use site that makes money from advertising. We have a modified experience for viewers using ad blockers

Wikia is not accessible if you've made further modifications. Remove the custom ad blocker rule(s) and the page will load as expected.